The Farm Project at Saunders Farm Installations 2007-2016
CAMOUFLAGE: FABRIC AS ART MEDIUM
Camouflage taken from French means to hide or deceive from the enemy.
Originally four installations in the landscape explored the impact of this pattern.
Three of these artworks were shown at the annual sculpture exhibition of
Collaborative Concepts at Saunders Farm in Garrison, New York
choosing a different site each year from 2008 - to 2010 and again in
2015 and 2016. Another separate installation at Hudson Valley Land Trust, Garrison
under the auspices of Habitat for Artists conceived by Simon Draper.
The journey has made everything camouflaged instantly recognizable
to me and therefore a link to another meaning of definition..a spring
towards amusement or to horror.

– Sheilah Rechtschaffer, 2017
Sugar Maple Trees & Global Warming, 2012
Saunder's Farm
Installation with mixed media:
plastic sap tubing, spigots, string, beads and pails

In March, my husband and I went to the Hudson Highlands Nature Museum in Cornwall, NY. With our 5 year old granddaughter, we learned about Sugar Maple trees and the diminishing supply of sap this year because of the mild winter.
Modern harvesting developed a system of plastic tubes running through the trees to a central collector. But the pails with spigots are there as a reminder of traditional method; a delightful visual
memory. Small producers have invested in the modern method.
2012 sap quantities were greatly reduced. Less is predicted 2013, driving the price higher.
I present this installation as a plea. Only awareness and action can prevent the constant assaults on nature brought by global warming.
No sap, no syrup!
Collaborative Concepts presents art exhibition@Saunders Farm, September, 2011
Review by Amy Lipton
Philipstown.Info – September 24, 2011
"This tree is seventy-three" by Sheilah Rechtschaffer
1/2 inch double braided rope x 100 feet (approx)
Recycled House Paint
This tree is a Pepperidge Bettlebung (Nyssa Sylvatica) - a black gum tupelo of the eastern U.S. with light and soft but tough wood. The leaves turn bright red in Autumn. Now they are shinny green. The bark is dark gray and flaky when young and becomes furrowed with age. The flowers are small and later the fruit is an important food source for migrating birds.
Trees are the lungs of the world. We all need good lungs in order to live and endure a million assaults on our natural world.
Saunders Farm is a protected property and this tree may outlast me, but maybe not. Nothing is certain.
I like wrapping seventy-three coils of rope around the tree. It is a rather ordinary tree but it becomes unique to me. It has become my friend. It makes me feel I want to protect it. Then I think I want to protect everything I see, to keep it safe so it can keep feeding the birds.
Observations:
A young boy asked me why I wrapped this tree and I told him. I asked him how old he was. He said he was 12. He then pointed to a small sapling and said…."that's the same age as me. You're old but that tree is young. I think he got it."
My inclination leans towards the works that are made on site, or for the location, and in particular those that address this working farm in its rural setting with varying terrain, steep slopes, stone walls, gates, pastures, woods and pond. Local Garrison artist Sheilah Rechtshaffer's work This Tree is Seventy Three, is a slight, but elegant gesture. She searched for a tree to match her age of 73 years (with the help of an arborist) and wrapped it with rope 73 times around the trunk. She painted the rope a pale shade of green to match the tree leaves and wound it up the trunk to reach well above her own height. Her statement draws on our human/nature relationship and evokes both comparisons and differences on the meaning of age. Trees often outlive our short life-spans, yet they are equally if not more vulnerable to destruction via weather extremes, as recently experienced in our region. Collaborative Concepts presents art exhibition@Saunders Farm,
September, 2011
Review by Amy Lipton
Philipstown.Info – September 24, 2011
Camo Pop, 2010
camouflage netting
10 yards by 60 inches
recycled latex paint, magic market, spray paint
This year the big hit in fashion is camouflaged clothing.
Not only in the traditional hiding colors of woodland or the digital print of the desert,
but in expanded patterns of sky blue, neon yellow, lavender and acid green.
This change amuses me and saddens me. It makes the serious frivolous
and makes the frivolous irrelevant.
Camouflage Redux, 2009

Digital camouflage fabric
wrapped on trees and covering stones

The common camouflage used for the military is now a digitalized print in different colors
depending on geographical location: tropical, desert, woodland.

The real camouflage is out there, of course, and hidden in the landscape, lost in the crowd.
In returning to this theme in the tranquil setting of Saunders Farm, I think about war and peace.
Even walking in "paradise" one cannot see.
Camouflage, 2008
Camouflage material in woodland pattern
wrapped on trees
Walk up the hill, glance, squint, something there, almost invisible.
I wrap these trees beside a little trail covering the bark. We sense
something different, sneezing hidden, altered like many things we see
and hear everyday.
God Isn't Watching
September, 2007
Mixed media and found objects
Four trees line the road leading to the fields of Saunders Farm.
I have chosen to wrap these trees as visual reminders of the devastation of loss, death and destruction.
Roads memorials, commonly found in other countries, now have become increasingly numerous here.
Each tree symbolizes an event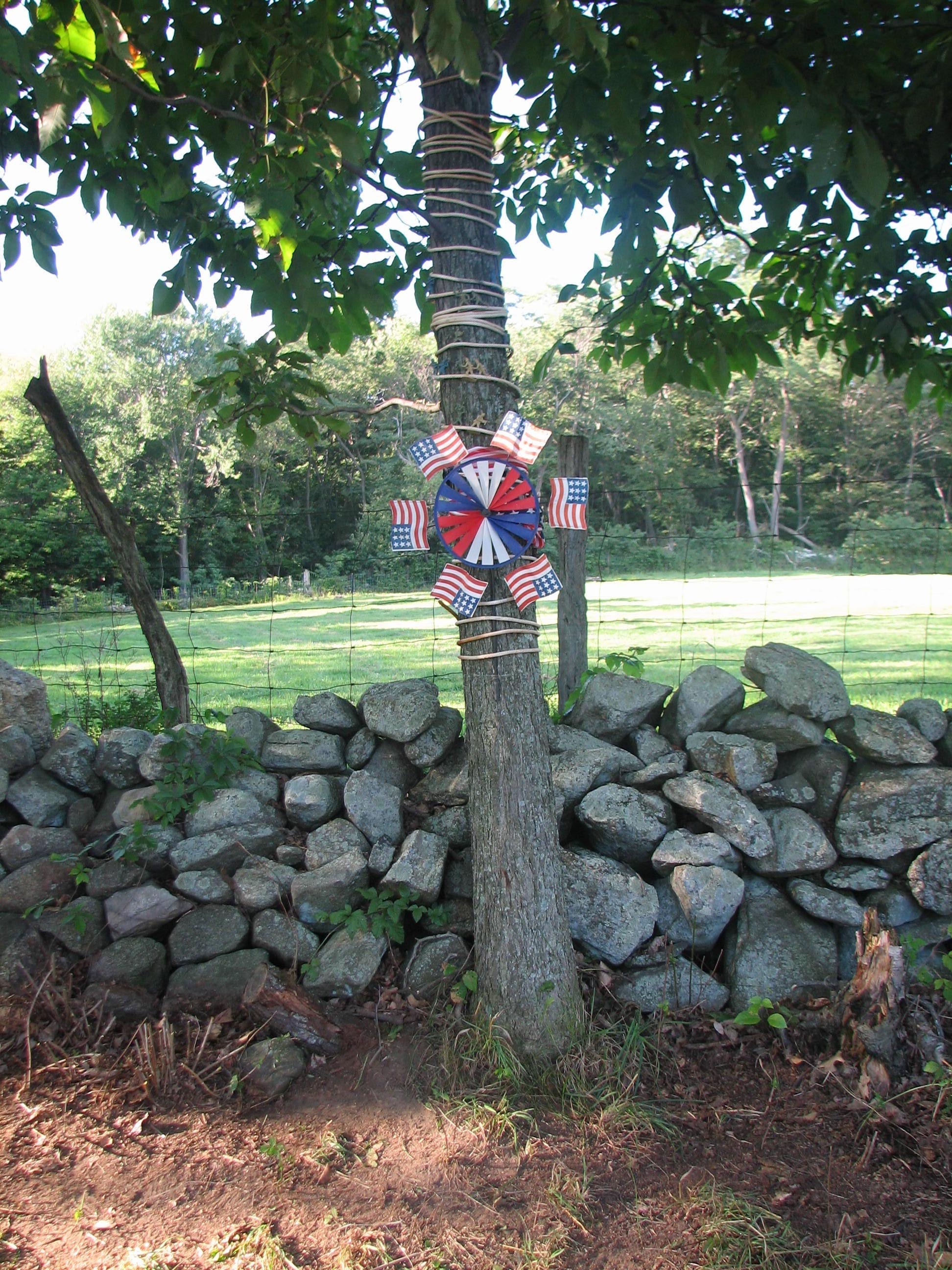 1. The Accident
There is a memorial at the bottom of my road.
A child was killed.
Her mother was driving.
The car skidded.
Her mother changes the stuffed toys as they deteriorate.
2. The War in Iraq
Victims of the Iraq War
Both sides of this battle
We don't know who they are
Our government has downplayed their homecoming
They return, first stop a warehouse
Some media news posts their photos for 10 seconds
Most in their 20s
Smiling faces
I post their faces with the American flag.
This war in not borne by our entire nation
Our nation listens to propaganda.
3. The Next War
The tree is for the war
now being planned.
It hasn't started yet but
there are rumblings
and there are statements.
There will be more faces
More destruction.
4. The Demolition of Palestinian Homes
This tree bonded at the root
About 12 feet up they separate
A fitting metaphor for the problem
The army comes with an order
The house is destroyed in about a half-hour
They are told, if they are told
They have some time to gather their important possessions.
Look at your home
Think about what you
would take with you.